Latest Features
In 2020-21 – a season likely to play out largely behind closed doors – Europe's top four football leagues held sponsorship agreements of about €315m ($383m) in contract value.
The Bundesliga's central sponsorship income has plateaued since it handed over sleeve sponsorship rights to clubs in 2017-18. Previously, logistics brand Hermes paid €8.5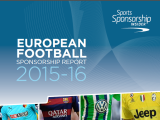 Values of main shirt sponsorship and kit supply deals for the 98 clubs in the Big Five European football leagues form the backbone of this report. It contains extensive analysis of this income, with charts and text looking at angles such as the biggest-spending industries, the spread of wealth between clubs, and more. Also includes: comprehensive listings of the sponsors for each club, in-depth case studies of sponsorship programmes of 10 clubs, and analysis of league central sponsorship programmes.