Latest Features
Atléti and its official dental services provider promoted their partnership in 2017-18 with 'Clench Your Teeth'.
Chinese mobile phone manufacturer ZTE this month followed its national rivals into European football signing an 18-month agreement with Spanish LaLiga club Sevilla.
LaLiga, the organising body of the top two Spanish football leagues, is targeting a big increase in its deal to replace Spanish bank BBVA from the start of the 2016-17 season thanks to inventory it has acquired from centralising media rights.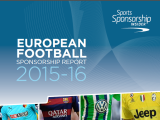 Values of main shirt sponsorship and kit supply deals for the 98 clubs in the Big Five European football leagues form the backbone of this report. It contains extensive analysis of this income, with charts and text looking at angles such as the biggest-spending industries, the spread of wealth between clubs, and more. Also includes: comprehensive listings of the sponsors for each club, in-depth case studies of sponsorship programmes of 10 clubs, and analysis of league central sponsorship programmes.
Driving customer engagement and generating sales is key to Spanish bank BBVA's sponsorship strategy.
Features
The Spanish football league, the Liga de Fútbol Profesional, is looking to sign up to four new global partners in a push to exploit the league's international commercial potential.
Banking group BBVA will launch a new bank account for Spanish football fans as part of its latest title sponsorship renewal with the Liga de Fútbol Profesional, the Spanish football league.