US APPAREL COMPANY Warrior Sports has signed a six-year kit deal with English Premier League club Liverpool. The agreement will see Warrior pay a Premier League record fee of £25m per year from the start of the 2012-13 season, surpassing the league's previous most lucrative deal between Manchester United and sports apparel giant Nike – worth £23.5m per year.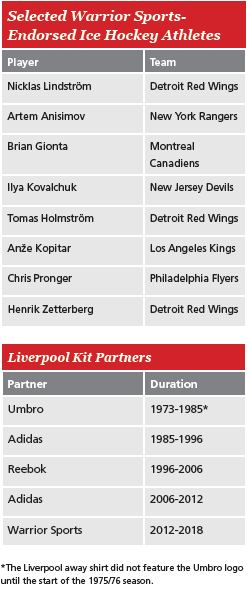 Agreed in September 2011, Liverpool took the strategic decision of delaying the announcement of the partnership until January 2012 as to preserve the club's business relationship with incumbent partner adidas and linked merchandising operations until the end of the current football season in May.
The property
Warrior will replace adidas as responsible for all kit-making duties for Liverpool FC, including senior playing kits (home, away and third), training wear and club tracksuits.
As the fourth biggest-selling football jersey in the world (900,000 units per year), behind Manchester United, Barcelona and Real Madrid respectively, Warrior inherits a powerful and widereaching retail operation.
Emblazoning each shirt with its logo will enable the brand to showcase its technical expertise to markets previously untapped, including Asia, where Liverpool has its strongest foreign fan base.
Consolidated by the reach carved out in the region by the club's partnership with shirt sponsor Standard Chartered Bank, which generates 90 per cent of its profi ts in Asia, Africa and the Middle East, Warrior has bought into a global property.
The deal makers
The negotiating team from Liverpool FC was led by club managing director Ian Ayre, who was assisted by head of merchandising Lee Dwerryhouse and supported by Fenway Sports Marketing team members Sam Kennedy, Billy Hogan and Mark Lev in the US.
Responsible for brokering the deal on the brand side was Mark Cavanaugh, general manager, sports marketing at New Balance, along with New Balance owner Jim Davis and Warrior Sports founder David Morrow.
The Clincher
According to Ian Ayre, despite interest and offers from a wealth of other major brands, including extensive renewal talks with adidas, Warrior was eventually elected as the preferred partner because of its ability to focus solely on Liverpool FC.
"We went through a lengthy consultative process with adidas; they were involved right the way through," Ayre told Sports Marketing Frontiers. "All of the major brands that you would expect to see in the Premier League were interested, and we spoke to them all. We received some seriously good offers but in the end it was Warrior that appealed the most."
Michigan-based Warrior Sports, acquired by American footwear brand New Balance in February 2004, has no previous experience in football and earned its stripes in North America as a manufacturer of high quality apparel and equipment for ice hockey and lacrosse, including the US men's team.
Despite the brand's inexperience in the sport, Warrior has signalled its intention "to shake up the world of football."
"Other major brands can have 14 or 15 other clubs to promote," Ayre continued. "With Warrior, its only football project will be with Liverpool and being their lead brand bodes well for the club.
"When you look at the brand's success in lacrosse and ice hockey, it has dominated those sports and we hope to benefi t from that success."
The deal with Warrior also sees the retail operations of all Liverpool's 'fashion' wear – merchandise that does not sport the Warrior logo – returned to the club, having previously been controlled by adidas.
This means Liverpool will retain 100 per cent of all profi ts made from the sale of these items, which accounts for 50 per cent of the club's entire merchandising business. Liverpool could potentially match the investment from Warrior as a result of the sale of non sponsorbranded goods.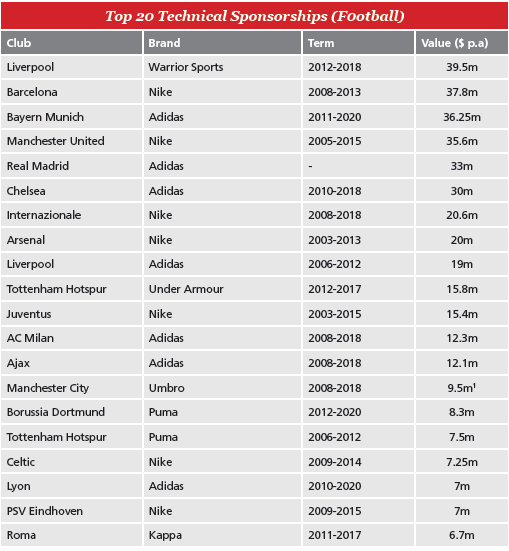 What does it mean?
Warrior has seemingly entered themarket at a remarkable cost: paying aleague record fee for a manufacturing deal, as well as ceding profi table retail power to Liverpool.
Given that Warrior will enter the Premier League at the same time as fellow US apparel brand Under Armour, which has signed on as technical partner of Tottenham Hotspur in a fi ve-year, £50 million deal, Warrior's agreement with Liverpool appears overpriced.
However, with Under Armour already present in the British market as the apparel partner of the Welsh Rugby Union, and gradually establishing itself internationally as a challenger brand to the likes of Nike and adidas, exposure for the Baltimore-based fi rm is less critical.
Warrior has paid a premium for awareness, while the potential return from Liverpool's shirt sales could recoup the lion's share of its annual investment if Warrior earns £25 from each shirt sold and volumes continue at current levels. Liverpool FC has attracted criticism for 'selling out' to the highest bidder, but Warrrior's cash injection, more than double the annual £12m adidas currently pays the club, will surely assist in the provision of a sound operational framework under the UEFA Financial Fair Play (FFP) regulations.
While the pan-European rules have only been soft launched to date, with clubs theoretically restricted to a 45m loss per year until the end of the 2013-14 season, come 2018 that fi gure will be revised down to a mere 8.8m with UEFA threatening a ban from club European football as the ultimate sanction for any club failing to comply with the guidelines.
Although Warrior has invested in a club not currently competing on the continent, Liverpool's management, fans and sponsors alike will be hoping for a change in the coming seasons – and an increased transfer budget, bolstered in part by Warrior Sports, may be key to achieving this goal.
Warrior, however, will have to wait until June to stamp its authority on the shirt, with incumbent adidas contracted until the end of the current European football season.
You need to have a subscription to access this content
If you would like more information on our Sponsorship product please contact our sales team