IN OCTOBER 2011, the Germany-based global trye company Continental, signed as a global sponsor of UEFA EURO 2012 in Poland-Ukraine and UEFA EURO 2016 in France.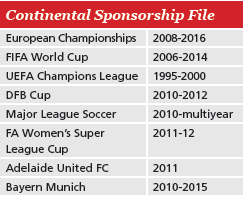 Continental became the tenth and last sponsor of UEFA EURO 2012, joining up with adidas (2012 & 2016), Canon, Carlsberg Castrol, Coca-Cola (2012 & 2016), Hyundai-Kia (2012 & 2016), McDonald's (2012 & 2016), Orange and Sharp.
The market leader in Europe and the world's number four tyre company after Bridgestone, Michelin and Goodyear, Continental was also a partner of UEFA EURO 2008. Sports Sponsorship Insider understands that the UEFA rate card for UEFA EURO 2012 called for €35m from global sponsors (with broadcast sponsorship) and around €25m without.
The final figures, however, are likely to be much lower due to the size of the host country markets. Insider values Continental's two-tournament deal at around €40m with the UEFA EURO 2012 component discounted at below €10m.
The Property
The UEFA EURO 2012 commercial programme consists of 10 sponsors with global rights, as well as eight national sponsors' spots (four in Poland and four in Ukraine), limited to their own territory. As Official Sponsors of the EUROs, Continental gets perimeter board exposure and access to preferred status classical advertising inventory in some markets.
Continental can also use tournament-based inventory to strengthen customer relationships through hospitality and ticket promotions – traditionally the key cornerstones of its activation programme.
The Deal Makers
The deal was negotiated between UEFA marketing director Guy-Laurent Epstein on behalf of UEFA Events SA, a wholly-owned subsidiary of UEFA, created to manage and handle the European football governing body's commercial and event operations.
Much of Continental's marketing activity is centralised in Germany with Nikolai Setzer, executive board member for Continental's tyre division, responsible for the global marketing activities of the Car Tyre Division.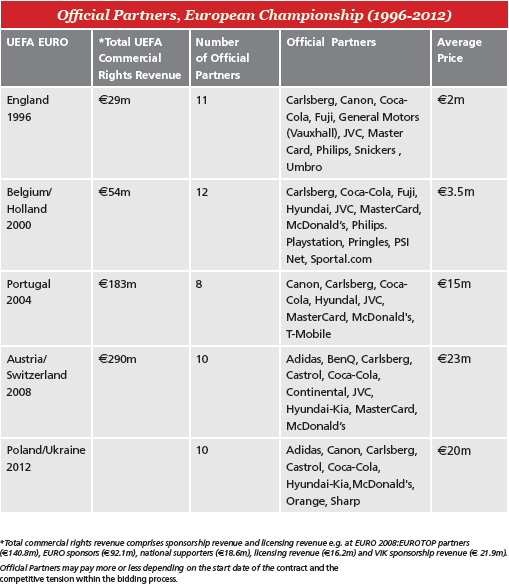 The Clincher
For a company that makes a point of integrating sponsorship early on in its marketing communications, Continental's move for the tenth slot was untypically late.
Sports Sponsorship Insider has learnt that at least one company from another category was negotiating with UEFA for the tenth official partnership slot before the Continental deal was done. The late signing therefore was not the result of a staggered announcement by UEFA.
This timeline suggests that Continental was able to buy UEFA EURO 2012 rights at a discount and primarily as a media buy in terms of signage around the stadiums and for classical advertising where UEFA partners gain TV advertising inventory secured by UEFA.
Continental's activation experience, however, should allow it to set up hospitality programmes with dealers in Poland/Ukraine and those countries immediately adjacent to the hosts in the strategically important growth markets of Eastern Europe.
Continental's advertising campaigns, it should be added, have been closely meshed with the company's international football sponsorship and its Hamburg-based media agency Serviceplan will further develop this strategy – with its first integrated campaign scheduled for launch this winter.
What does it mean?
Despite the growth in European Championship sponsorship revenues over the last five editions (see table opposite), the near monopoly of eight or nine partner categories suggests that it will be tough for UEFA to grow revenues by opening up relatively new categories to compete – and drive up prices – against Continental, which stands alone as a potential partner in the premium tyre category.
Since UEFA slashed the number of top-level partners for UEFA EURO 2004 by one third from 12 to eight partners in an attempt to boost the tournament's value to sponsors, the focus has been on extracting more from established categories such as credit cards, beer, sporting goods, soft drinks, fast food restaurants, cars, imaging products, telecoms and electrical goods.
For 2008, demand from Castrol and Continental opened up the field to ten partners – allowing UEFA to sell to these new categories.
Continental, however, is under no pressure from its rivals in the football's mega-event space and should therefore pay significantly less than partners from more competitive sectors.
For 2012, the absence of a credit card company has made space for Orange to become the tournament's first "official technology" partner, but perhaps only computer gaming and renewable energy firms have the potential to break into this select group.
In tandem with Continental's FIFA World Cup partnership (2006-2014), international soccer is a proven success as a central communications platform to boost the visibility of the company's premium tyre brand.
The world's second biggest football tournament delivers awareness not only in Europe, but in the growth markets of Asia and South America.
Board Report - Anonymous
Continental's use of sponsorship at the top levels of football has been nothing short of brilliant and I'll explain why.
Starting from Continental's involvement in the early stages of the UEFA Champions League in the 1990s, Continental has stood out in a category that has traditionally targeted motorsports to the exclusion of all others.
In the UEFA Champions League, for example, you'd expect a car or telecom company, but there was a novelty to a tyre company sponsorship and the first internal meetings to decide on this strategy must have been fascinating: sponsor the Champions League but what about motorsport?
Michelin, Bridgestone and Goodyear are all where you would expect them to be in motorsports, but the advantage of sponsoring a sport like rallying where you may have an early adopter audience [for the purchase of tyres] is outweighed by the huge audience for football.
Of course, the levels of investment in a UEFA EURO or FIFA World Cup are such that only 20 or 30 companies can play at that level – and the fact that Continental got the tenth UEFA EURO 2012 slot tells you something about the challenge for UEFA or FIFA to bring on board new categories. It's easier said than done.
There's always going to be demand from car, or mobile or beer companies, and perhaps the occasional wildcards like Yingli Solar or companies from Russia and Qatar. But the late signing of Continental suggests that UEFA tried to exploit all other categories and couldn't make a deal elswhere.
Continental has been a safe bet; there may be more lucrative categories, but do you want to alienate a reliable partner which will commit to 2016?
Continental does not run the most creative activations but then they don't have to.
What I admire about them is that for a company driven by engineers they have been able to integrate the marketing efforts across social media and interactive on their website. They stand out as they are, whereas other companies have to work that much harder to make an impact.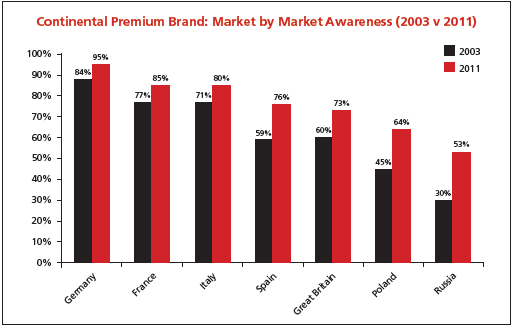 You need to have a subscription to access this content
If you would like more information on our Sponsorship product please contact our sales team