INITIALLY SCHEDULED FOR a grand reveal in September, the Rugby Football Union (RFU) unveiled QBE Insurance as its new sponsor, June 14.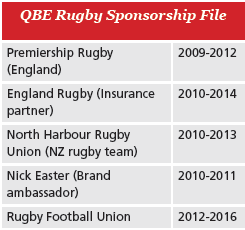 The four-year agreement, running from 2012-2016, will see QBE title sponsor England's autumn internationals and replaces Investec's 12-year tenure as title sponsor, which ends this August.
Valued at around £1.5m per year through 2016, QBE's investment represents a 50 per cent uplift on Investec's deal. Paul Vaughan, chief executive, England Rugby 2015 insisted there was no connection between Investec's withdrawal and the controversial departure of CEO John Steele, who was ousted by an emergency meeting of the RFU board days before the announcement.

"We spoke to Investec about renewing around seven or eight months ago," said Vaughan. "They said we should take it to the market so we did." Vaughan admitted that the crisis at the top of the RFU had prompted "maintenance talks" with the Union's other sponsor partners who, he said, remain steadfast in their commitment to the sport.
You need to have a subscription to access this content
If you would like more information on our Sponsorship product please contact our sales team