THE SEASON-ENDING WOMEN'S Tennis Association (WTA) Championships will carry the name of BNP Paribas and its Turkish partner Türk Ekonomi Bankasý (TEB) for the next three years after a co-sponsorship deal was reached in June, in a deal valued by Insider at around $2.5m.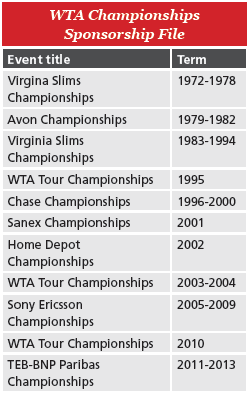 The deal marks the end of a 15-month search for a title sponsor after Sony Ericsson renegotiated the terms of its main six-year $88m WTA Tour sponsorship (2005-2011) with one year left to go on the contract. This freed up the title rights for the last of three WTA Championships hosted in Doha, Qatar between 2008 and 2010.
There were no takers in 2010 and the WTA will be relieved that a title sponsor has now been found for the newly-named TEB-BNP Paribas WTA Championships, which features the world's top eight singles players and top four doubles teams, competing for a share of $5 million in prize money.
The Property
The TEB-BNP Paribas WTA Championships will be held in the Turkish city of Istanbul in 2011, 2012 and 2013, with the two financial institutions collaborating as the "official bank" of the event. Under the terms of the agreement, TEB-BNP Paribas will receive global exposure through on-court branding, broadcast and digital brand exposure as well as international promotions across all WTA platforms, including digital and social media channels.
The Deal Makers
WTA CEO Stacey Allaster met with representatives of BNP Paribas during last year's French Open to discuss the bank's involvement in tennis and the WTA Championships' move to Turkey for three years from 2011.
According to the WTA, the timing of the meeting was "perfect" since BNP was in the middle of developing a communications strategy with the new Turkish bank they had acquired, TEB.
Allaster, who gained extensive experience in sponsor acquisition over 15 years at Tennis Canada, led the WTA's overall sales strategy and negotiations, assisted by Olivier Bremont, who was the WTA's VP business development and strategy, before he left to become commercial director of the Volvo Ocean Race.
From the BNP side Sebastien Guyader, in charge sponsorship for BNP, was the point person and day-to-day leader in the negotiation, reporting to his boss Antoine Sire, head of Brand, Communications and Quality.
It should be noted that although IMG is the WTA's global sales agent, the WTA's existing relationship with BNP Paribas meant that the deal was developed directly between the WTA and BNP Paribas.
The Clincher
By September 2010, the WTA had a green light that BNP Paribas was "most interested" and that the bank needed to work with TEB to determine the level of interest and support from the Turkish side.
From this point, the negotiation developed over several months and towards the end of the process, TEB was more closely involved, raising some local issues, which were discussed via its BNP representatives.
For BNP Paribas, the property made strategic sense. The bank was looking for another premium tennis property and one backed by strong media coverage [the WTA Championships generates 600 hours of coverage and is distributed by 22 International broadcasters]. Turkey's fast-growing economy is also an important new market for BNP Paribas, which may use TEB as a springboard into Middle Eastern and Balkan markets.
The clincher, however, was the price. The co-title sponsorship will be jointly- funded by the two banks and price was critical during negotiations, which were described by a WTA spokesperson as "open and constructive – a tough, fair and good dialogue, with both parties pleased with where it ended up.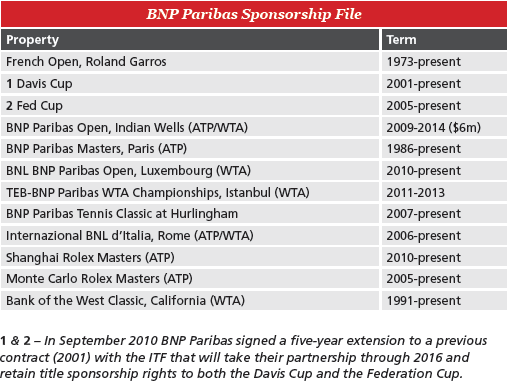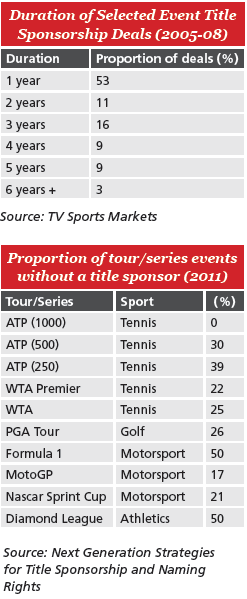 What does it mean?
Selling the title sponsorship to the WTA Championships fills in the final inventory gap left by Sony Ericsson's withdrawal from the end-of-season showcase and further vindicates the WTA's decision to accept a restructured deal from the mobile phone maker.
The timing of the new deal, just six months out from the tournament start-date may present one or two activation headaches for the new co-title sponsors, but should not prevent an effective branding succession.
In the world's developed sports economies the generally short duration of title sponsorship contracts creates a greater potential for sponsor turnover.
Taking over from a previous event title rights holder, as PNB Paribas- TEB have done from Sony Ericsson, is therefore considerably less challenging than taking over from a stadium or arena naming rights partner. While headline naming rights deals almost invariably begin north of five years (sub-rights are typically sold on far shorter deals), event title sponsorships are only rarely signed on those kinds of duration.
For example, of 199 event title sponsorships analysed by TV Sports Markets (a sister publication of Sports Sponsorship Insider) between 2005 and 2008, a total of 105 were for a single year only, while only three were scheduled to run for more than five years.
Similarly, of 32 team title sponsorships with published durations studied during the same period, only one - the most expensive on a per annum basis, Vodafone's Formula 1 McLaren Mercedes sponsorship - was agreed to run for more than five years. Of the remainder, more than half were single-year deals, and almost 20 per cent were two year arrangements.
The implication is that event sponsors find replacing predecessors easier than do naming rights partners, most likely as a consequence of the habits formed by consumers over the longer duration of their deals. The key to achieving replacement in the public mind is about integrating the new brand as fully as possible into the property - using assets that add value to the fan experience, as well as the brand appreciation benefits that are targeted by sponsors who do not have predecessor legacy issues to overcome.
To illustrate the wider point: on an international basis, not one of the major professional sport tours and series had a majority of events without a title sponsor at the start of 2011.
Board Report: Bettina Kuperman, CEO Impact 34
BNP Paribas is pretty much synonymous with tennis, already sponsoring major international tennis tournaments and recently launching their "we are tennis" campaign.
In Turkey, BNP Paribas is rather unknown as a sponsor as they have not been involved in major sports events in the Turkish market until now. BNP Paribas and Turkish bank TEB has for several years operated as a joint venture and it is this link that makes the sponsorship agreement really interesting.
Turkey is one of the world's fastest-growing markets financially and a young and dynamic population will secure this growth for a long time. Turkey is also a very strong sports nation hosting numerous major sports events every year.
However when it comes to sports sponsorships Turkey is still a relatively young and inexperienced market. Local companies sponsor sports teams and events and Turkish Airlines is, of course, a front runner when it comes to sports sponsorships. The interest is there, but there is still much to be developed on the sponsorship activation side - both from the commercial and the sports sector.
BNP Paribas' experience in sports sponsorships, the WTA brand and a visionary local organising committee might just be the start ramp for a whole new way of viewing sports sponsorships in Turkey and an inspiration for other companies in and outside Turkey to get into the market.
A smart sponsorship activation programme and a creative marketing concept will undoubtedly have a major effect on both BNP Paribas/TEB's brand and tennis. In new and growing markets like Turkey, being first and being bold pays off.
The combination will clearly strengthen the tournament brand and have a positive effect on their own sponsorship negotiations. The organisers are currently negotiating with Turkish companies in the car and airline sectors and will hope that the example set by TEB will encourage a commitment over and above value-in- kind deals.
You need to have a subscription to access this content
If you would like more information on our Sponsorship product please contact our sales team