YINGLI SOLAR, WHICH became the first renewable energy company and the first Chinese company to agree a global FIFA deal with its sponsorship of the 2010 World Cup in South Africa, has extended to Brazil 2014, in a deal valued at around $40m for the global marketing rights.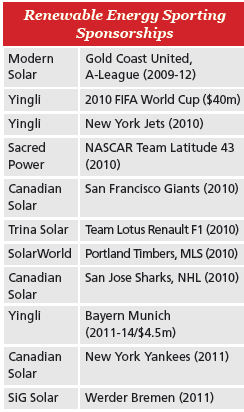 The deal represents a key addition to Yingli Solar's expanding sports sponsorship portfolio and is the most high-profile in a recent spate of partnerships between renewable energy companies and sport associations.
Elsewhere, Canadian Solar, one of the world's largest solar energy firms, signed as an offi cial sponsor of MLB's New York Yankees. The solar industry grew 101 per cent in the USA in 2010.
You need to have a subscription to access this content
If you would like more information on our Sponsorship product please contact our sales team