UNDER ARMOUR, the aggressive new US entrant to the European kit market, may have paid over the odds for its place at the Premier League top table with Tottenham Hotspur, according to industry insiders.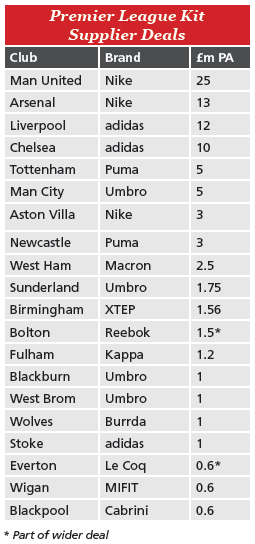 The US sportswear brand signed with Spurs last month in a five-year deal starting from season 2012-2013, worth up to £10m ($16.2m) per year, around double the incumbent Puma's initial five-year agreement from season 2006-07 to 2010-11.
But Under Armour's third attempt at securing a Premier League club contract in the last five years has been won at a high price, according to senior figures at a number of Premier League clubs who believe they have substantially overpaid and possibly been seduced by this year's Champions League campaign.
One said: "In terms of shirt sales, Spurs are still in a second group alongside Aston Villa and Manchester City, and not among the really big sellers like Manchester United, Liverpool and Arsenal."
Eyebrows have also been raised at the timing of the deal which has its roots in talks that began in early 2009 when there was still more than two and half years to run on Puma's initial five- year contract.
Insider understands that Spurs CEO Daniel Levy, his Under Armour counterpart Kevin Plank and their marketing teams met up for the first time to discuss their options at a night game at White Hart Lane in December 2009.

However, exploratory talks had reportedly taken place between the organisations at least as early as January 2009.
Although there is no suggestion that Spurs broke the terms of its contract with Puma, some observers are surprised that negotiations began mid-term and that the German sports lifestyle brand extended for another year in November 2010 to take in the 2011/12 season.
Explaining the long lead-in time, Blair Tripodi, Senior Director EMEA Commercial for Under Armour told Insider: "Spurs actually made the first reach out. Every year, every English Premier League team that's available will contact us...but this was more of a casual conversation.
"They had the new stadium [development] pending at White Hart Lane and it was really about how they could align their shirt sponsor with their kit supplier with stadium naming rights and build that commercial power.
"Their whole platform was 'let's find out what the market bears right now' and initially they were keen to get on- board with some long-term partners who could move into the stadium with them."
Since then, plans to redevelop the site at White Hart Lane have been scrapped without dimming either party's partnership ambitions.
You need to have a subscription to access this content
If you would like more information on our Sponsorship product please contact our sales team