Latest Features
This season Telecom Italia renewed its title sponsorship with Serie A. At €15m per season, this is the league's biggest central deal. Te
Italy's top football league, Lega Serie A, ought to be on course for a decent increase in the value of its centrally-sold sponsorship rights from the €34m ($40m) it earned in 2017-18, having agreed deals this month for the Serie A title sponsorship, Official Ball Supplier and Official Video Gaming licensing rights for the next three seasons.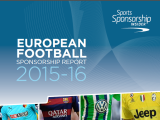 Values of main shirt sponsorship and kit supply deals for the 98 clubs in the Big Five European football leagues form the backbone of this report. It contains extensive analysis of this income, with charts and text looking at angles such as the biggest-spending industries, the spread of wealth between clubs, and more. Also includes: comprehensive listings of the sponsors for each club, in-depth case studies of sponsorship programmes of 10 clubs, and analysis of league central sponsorship programmes.
The explosion of forex football deals reached France's Ligue 1 for the first time last month when 24option.com agreed a two-year contract with Olympique Lyonnais.
Serie A club Internazionale's official partner deal last month with Chinese online wine retailer Jiuxian represents the first step in a global sponsorship programme that the club hopes will help it earn t…
Features
Italy has more laws on its statute books than any other European country but Italians are famous for considering them to be mere suggestions, polite recommendations, even paternalistic forms of advice, rather than binding rules...
Chinese mobile phone brand Huawei is investing over €1.2m ($1.6m) per year in new sponsorship and marketing deals with six Italian Serie A football clubs, including AC Milan.
Serie A, Italy's top football league, is understood to earn about €26m ($35.3m) per year from central sponsorship revenue, more than eight times the amount earned by the Italian second tier, Serie B.