Blockchain-based fan engagement platform Socios.com has signed a new global partnership with Serie A champions Juventus, building on a similar deal announced earlier this month with French champions Paris Saint-Germain.
Socios.com now positions itself as a second-tier sponsor at Juventus, alongside global brands such as Sky, Allianz and Samsung.
As part of the multi-year deal, Socios.com will launch a new cryptocurrency known as the Juventus Official Fan Token, which aims to increase international fan engagement using blockchain technology.

From early next year, Juventus supporters will be able to purchase tokens through the club's Socios.com platform, allowing them to engage with the club through mobile voting and polling.
With more than 60 million social media followers and an estimated 340 million supporters worldwide, Juventus aims bring fans from outside Europe closer to the authentic fan experience back home through the Socios.com platform.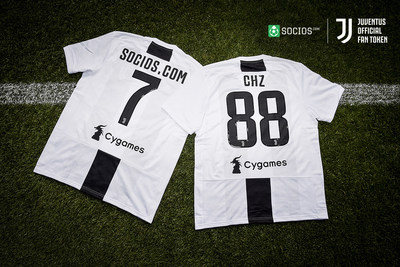 Socios.com, launched this year by parent company Mediarex, aims to partner with 50 major sports properties and inject $300m (€255m) into the global sports economy "over the next few years."
Alexandre Dreyfus, chief executive & founder of Socios.com, said: "We have started at the very top, with some of the biggest names in football, and our ambition is to build the world's biggest global football community, demonstrating that blockchain and cryptocurrency is the trusted technology of the mainstream."
Last week Liverpool FC announced a similar, global partnership with blockchain-based forex trading platform TigerWit.