Home furnishings retail chain Conforama became the title sponsor of France's top football league, Ligue 1, in a three-season deal, from 2017-18 to 2019-20, thought to be worth about €27m ($29.5m), or €9m per season. The league had been looking for a title sponsor since 2015.
The value of the deal is below the €10m per season the league had originally sought. The league had two difficulties in finding the right kind of partner at a fee level it believed represented market value:
To find a prestige brand from a sector that would not create a clash with a major sponsor from one of its 20 clubs
To secure a good fee without offering LED time. The clubs would not give up any board time to a central deal.
The last title sponsor for Ligue 1 was French mobile network operator Orange, whose deal ended at the end of the 2007-08 season. Orange paid between €8m and €9m per season. When the deal expired, the league chose not to seek a new title sponsor. At that time, Ligue 1 was undergoing a brand revamp and it was felt that adding a title sponsor would undermine this.
Olivier Jaubert, the league's marketing and sales director, told Sports Sponsorship Insider that the league's negotiating team, led by head of partnerships Benjamin Deblicker, had "worked smartly to define a package which could get agreement from the board of Conforama and that the clubs would feel was not undermining their rights". He declined to comment on the financial level of the deal.
The deal was announced shortly after the league's appointment in March of Havas Sports & Entertainment, the global brand engagement network of the French advertising agency Havas, to identify a tile sponsor. This followed a two-year period in which the league had worked with another advertising group, Dentsu Aegis, to find a title sponsor. However, it is understood that the deal was agreed directly between the league and Conforama, without either adviser being involved. Talks began in the summer of 2016 and continued through into 2017.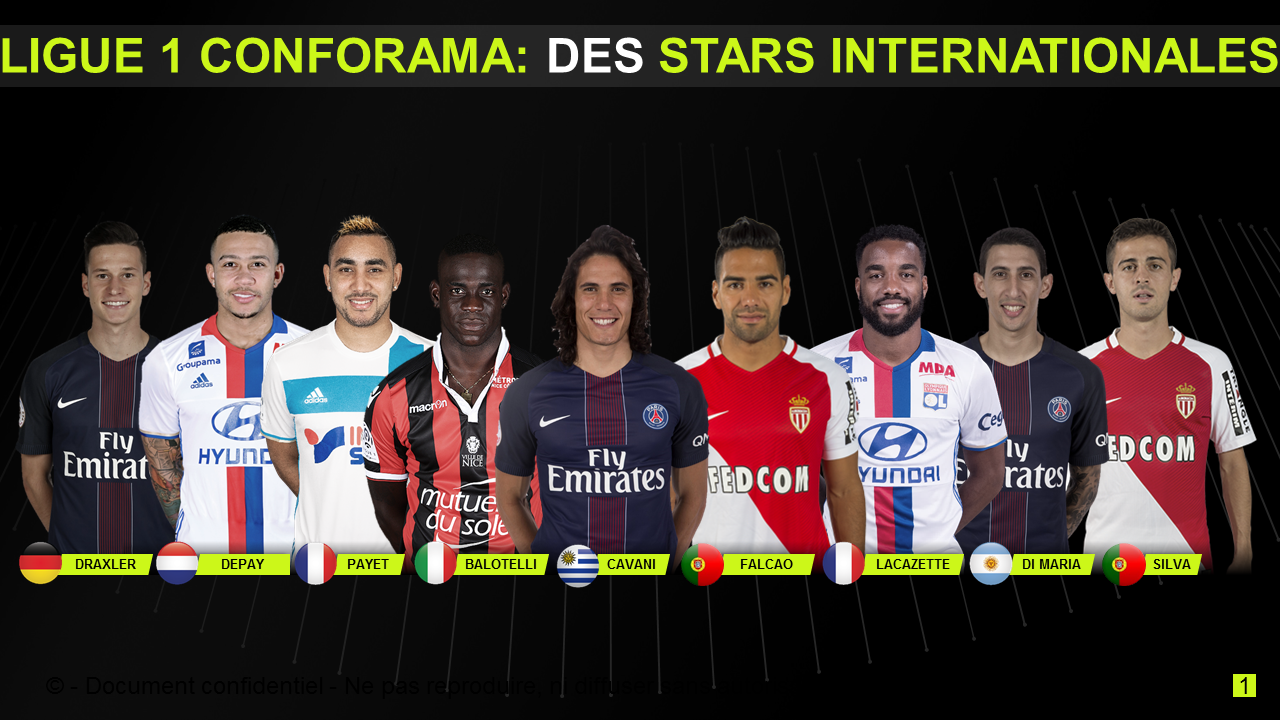 Brand insight: Conforama
​
The French company was created in 1967 and has since expanded into several neighbouring countries. It was acquired for €1.6bn by South African retail group Steinhoff International Holdings in 2011.
Steinhoff is active in retail furnishing, general merchandise (clothing and footwear) and car rentals. It is the second biggest furniture retailer in the world, after Ikea, and has aggressive plans to close the gap on the Swedish company.
Steinhoff revenues in the year to June 2016 were €13.1bn. Ikea revenues in the year to September 2016 were €34.2bn. Conforama's revenues to June 2016, were €3.5bn, a year-on-year increase of eight per cent, from €3.23bn. Operating profits were €179m, up 12 per cent from €160m in the year to June 2015.
Conforama was for many years the number one in France but had been losing market share to Ikea for over a decade prior to the Steinhoff takeover. It is still number two in France, behind Ikea, with 16.1 per cent of the domestic market. It is also number two in sales of TV sets in the country.
France is by far the company's most important market, accounting for 67 per cent of sales. Other markets are: Switzerland (13 per cent); Iberia (10 per cent); Italy (seven per cent); Croatia/Serbia (three per cent). It has 286 retail outlets across those markets of which 204 are in France.
Sales by product range are broken down as follows: furniture (52 per cent); white goods (20 per cent ); brown goods (15 per cent); home accessories (10 per cent); other (three per cent).
The Ligue 1 deal represents Conforama's first major investment in sports sponsorship. Antoine Brieu, managing director of Conforama France, said that having the name of Conforama associated to Ligue 1 constituted "an outstanding way of gaining visibility for the brand." He said that football and Conforama were both "popular and mainstream".
He pointed out that with Conforama having 204 stores in France, "almost 90 per cent of French people live less than 20 minutes away from a Conforama store. In every city where a football club of Ligue 1 is located, there is a Conforama store".
Brieu said that brand awareness was not the only objective of the Ligue 1 deal. "We will use this partnership to reward our customers by enabling them to win tickets to see matches, for example. We will also reward our employees and business partners, such as suppliers, at Ligue 1 events".
He said that it was too early to discuss in detail how the deal would be activated. The company is currently working on this.
Inventory
Conforama, Title Sponsor of Ligue 1, 2017-18 to 2019-20
From next July, the league will be known as Ligue 1 Conforama
Ligue 1 logo to be replaced by the logo Ligue 1 Conforama. Other rights include:
Ligue 1 Conforama logo will appear on shirt sleeve patch of players in all league games
Ligue 1 Conforama logo will appear heavily in pre-game protocol, including panels in front of the teams during the team presentation, on interview backdrop boards and corner flags
Use of collective player image rights and team rights for use in in-store promotions
LFP to supply digital content for use in their social media activities
4,000 tickets each season
Hospitality and promotional opportunities at each match.

Sector insight: Retail furniture​
The retail furniture sector has a very limited presence in football sponsorship, and none at all in France. Three clubs in Germany's Bundesliga have deals and one in the Dutch Eredivisie: Borussia Dortmund of the Bundesliga and FC Twente of the Eredivisie have deals with retailer Poco. Schalke 04 has a deal with Arte M and Werder Bremen has a deal with Meyerhoff.
Property insight: LFP​
The Ligue de Football Professionnel oversees the running of Ligue 1, the second-tier Ligue 2, the Coupe de la Ligue knockout tournament and the Trophée des Champions, the annual match between the winners of the previous season's Ligue 1 and Coupe de France. The league also jointly operates an eSports league, e-Ligue 1, in collaboration with games manufacturer EA Sports.
The league currently has 35 partners including sponsors and licensees across all its properties. Ligue 1, Ligue 2 and e-Ligue 1 each has its own title sponsor (see tables).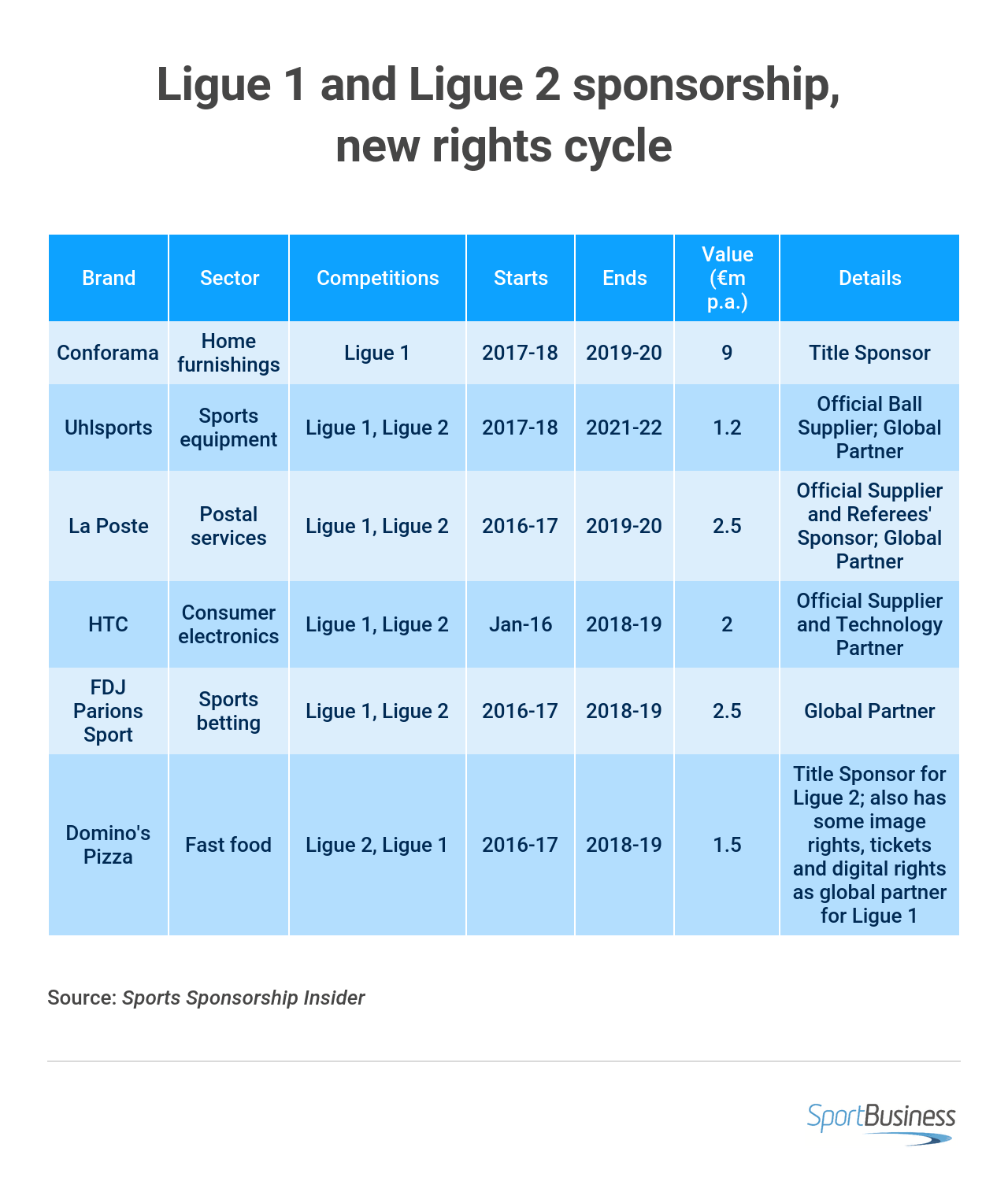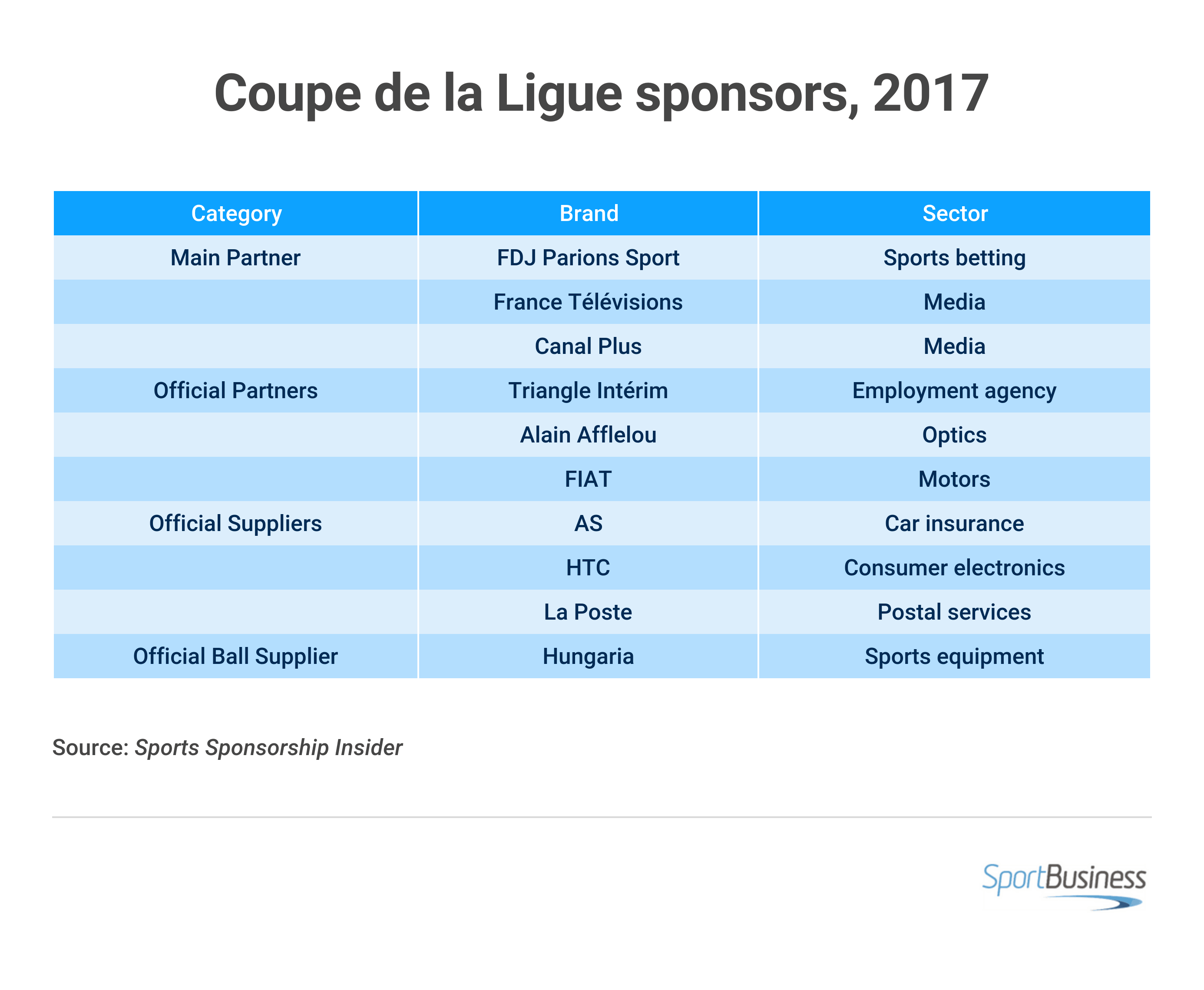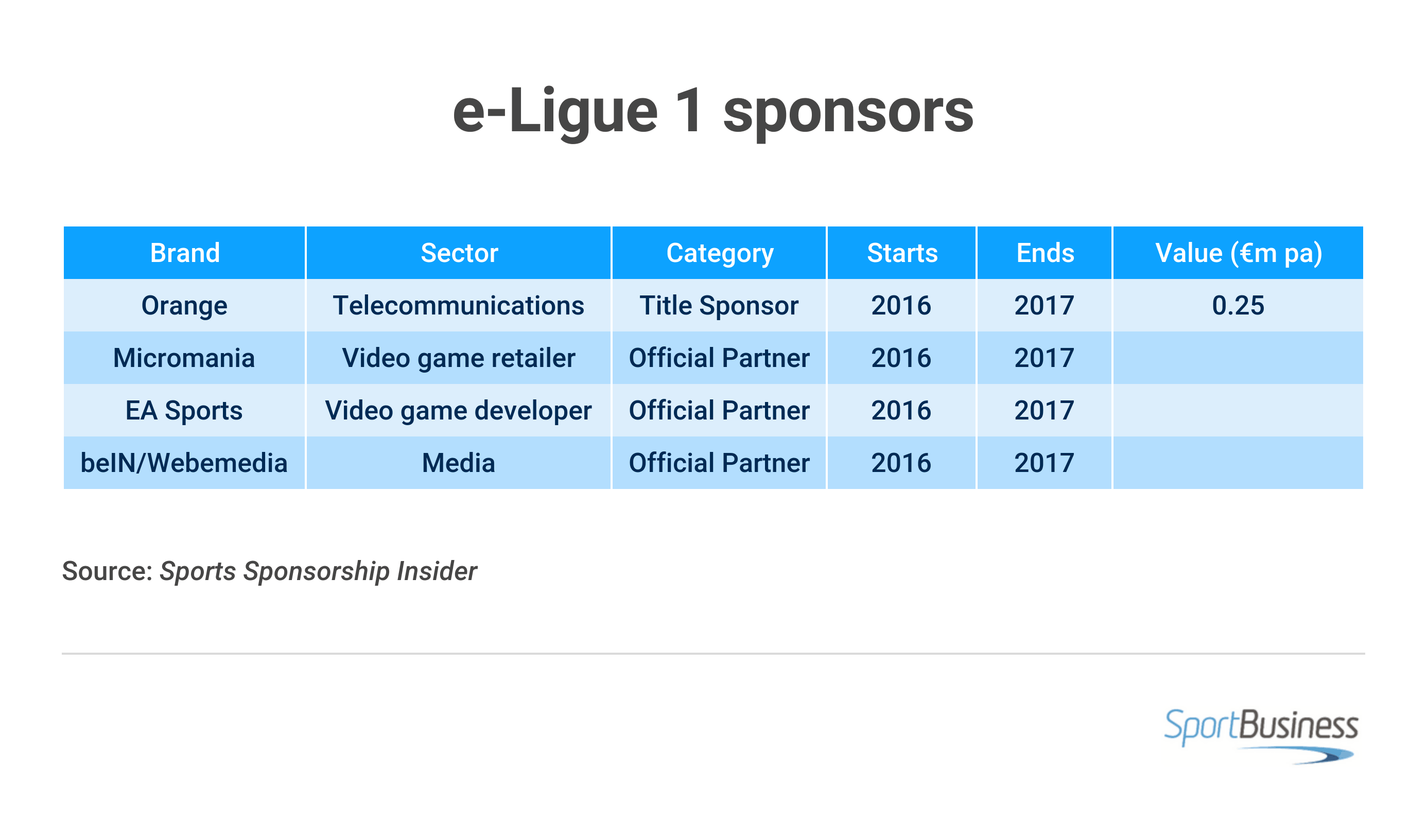 The title sponsorship for Ligue 1 and Ligue 2, as well as the technology partner category (sold to HTC) are new categories which did not exist in the previous cycle. This, plus increases in other contract renewals, will substantially push up revenues from centrally-sold sponsorship deals in the new cycle.
Jaubert said: "The LFP strategic plan for 2017-2022 is ambitious. Without income from player transfers and domestic TV rights, our ambition is to grow our revenues in five years from €1.8bn per season to €2.2bn per season. It was challenging to deliver interesting rights for partners without undermining the rights of the individual clubs. Now we have the right tools to make sure we grow even bigger in the new cycle and expand again in the next cycle, from 2020. We are in the market for more global partners for Ligue 1."
Conforama and Domino's Pizza, title sponsor of Ligue 2, are both new to sports sponsorship. Jaubert said that this showed that sponsorship was still a "strong communications tool" for brands and that the LFP properties represented a very appealing platform for them.
The retail furniture sector has a very limited presence in football sponsorship, and none at all in France. Three clubs in Germany's Bundesliga have deals and one in the Dutch Eredivisie. Borussia Dortmund of the Bundesliga and FC Twente of the Eredivisie have deals with retailer Poco. Schalke 04 has a deal with Arte M and Werder Bremen has a deal with Meyerhoff.
A third plank of the league's strategy, in addition to adding new title sponsors and a technology partner, is to create selective regional sponsorships. "We will identify territories, working with clubs which already have a strong international presence", Jaubert said.
"There are many French companies with a presence abroad. That will be the starting point but we will also target new international companies. We have opened an office in China with the French Football Federation, and that will be one of our key territories. We are not going to try to go everywhere. We will target specific markets and try to grow in those markets."
Global reach​
League games are broadcast in France on pay-television platforms Canal Plus and beIN Sports. League Cup games are shared between Canal Plus and the free-to-air public-service broadcaster France Télévisions, which reaches much larger audiences. The league's global media rights outside France are sold by the beIN Media Group.
The official Ligue 1 YouTube channel has 618,000 subscribers. The Ligue 2 channel has a further 54,000. Ligue 1's official Facebook page has 2.443m followers, that of Ligue 2 has just under 469,000. Ligue 1 has 412,000 followers on Instagram, Ligue 2 has 39,6000. Ligue 1 has 102,000 followers on Twitter. Ligue 2 has 30,100.
The combined social media reach of the 20 Ligue 1 clubs is: Facebook - 49m; Instagram – 9.2m; Twitter – 12m. For the 20 Ligue 2 clubs, the numbers are: Facebook - 2m; Twitter 1.1m; Instagram – 160,000.
You need to have a subscription to access this content
If you would like more information on our Sponsorship product please contact our sales team