Chinese consumer electronics brand Hisense has focused on brand building in key national markets but is moving towards global sports properties as its coverage and distribution network expands.
Key sports: Football, Formula One, Nascar and tennis
Key markets: Europe, North America, Southeast Asia and China
What's important: Brand awareness
Decision-making: Major sponsorship decisions are made by Dr. Lin Lan, executive vice-president of Hisense Company.
Brand
Headquartered in Qingdao, China, Hisense Group is a state-owned enterprise with publicly-traded subsidiaries.The largest of these subsidiaries is Shanghai Stock Exchange-listed Hisense Electronics Company which produces televisions, fridge freezers, air conditioners, washing machines, mobile phones and other products.
Hisense has been the top-ranked television maker in China's domestic market since 2004. According to China Market Monitor data for January 2016, Hisense has a 17.95 per cent domestic market share based on television sales volume.
Hisense is also the largest exporter of televisions from China based on sales of its Hisense-branded or white-label products. Globally, Hisense recorded sales of CNY28.18bn (€3.7bn/$4.1bn) in the television segment in 2016, up from CNY27.6bn in 2015.
In 2016, Hisense held a 6.1 per cent market share in the television segment globally, after South Korean brands Samsung and LG, according to research firm IHS Markit. Hisense overtook Japanese consumer electronics brand Sony in taking third spot.
Strategy
Hisense's sponsorship activity is directed primarily towards awareness if its brand as a maker of television products. In the past seven years, the company has used sponsorship to build the Hisense brand outside China, primarily in the US and Europe (see table, below).
In April, Hisense signed as an Official Sponsor of the 2018 World Cup in Russia in a deal understood to be worth around $40m (€36m). The Fifa sponsorship is expected to focus on brand building, sales and the brand's ability to improve its average selling price. Hisense is positioning itself as a premium brand in the same bracket as market leader Samsung.
Key markets for Hisense in terms of its Fifa activation are Europe, North America, Southeast Asia and China.
President of Hisense Group, Liu Hongxin, said the Fifa deal is a crucial, strategic initiative for the business. "We believe it will vastly improve global awareness and economic value for Hisense as a truly international brand," he said.
The Fifa deal was supported by the brand's results from its sponsorship of Euro 2016, where Hisense targeted five key European markets – France, Germany, Italy, Spain and the UK.
The company said that sales in certain European countries had increased by more than 450 per cent after sponsoring the Euros, despite weak economic growth in the region. Domestic returns from exposure in China alone exceeded the brand's Euro 2016 sponsorship investment, Hisense claims.
Portfolio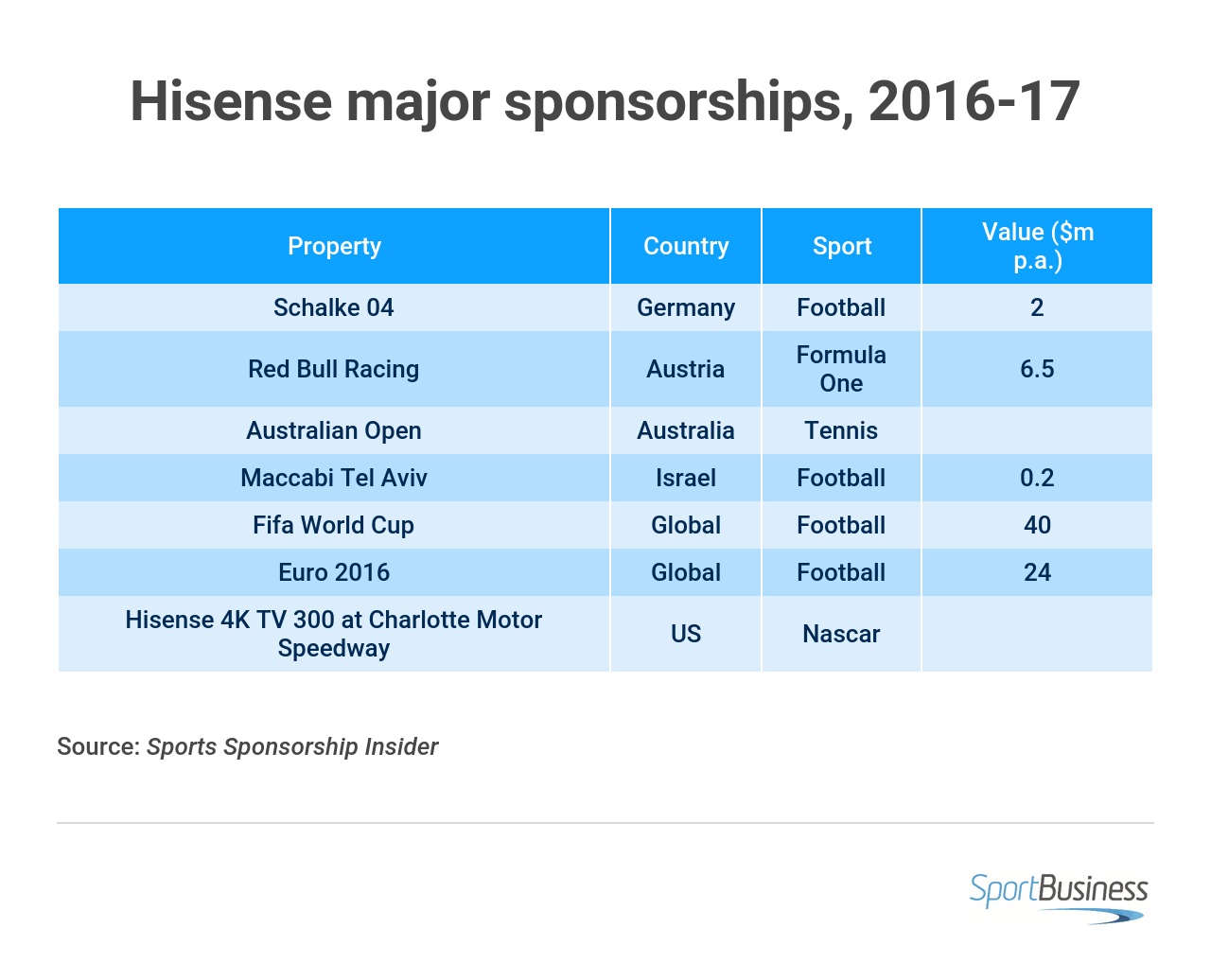 Activation
Under the Fifa deal, Hisense will get rights to advertising boards in stadiums, on-screen credits and marketing opportunities on-and-off the pitch during Fifa's flagship events, the Confederations Cup in 2017 and the World Cup in Russia in 2018.
The package is similar to the set of rights the brand activated during Euro 2016 where Hisense focused on its digital campaign, using Hisense products and assets, and fan zone activations on the ground. Kelley Zhou, head of advertising at Hisense, said: "We influenced a massive audience which has already impacted our business for the better and become the most successful brand activation in our company's history".
Agencies
The CSM agency worked with Hisense on its activation around Euro 2016 and has been retained for its activation around the 2018 World Cup.
You need to have a subscription to access this content
If you would like more information on our Sponsorship product please contact our sales team