THE RUGBY FOOTBALL UNION (RFU) signed a four-year partnership with BMW Group UK as the official vehicle partner to take effect from September 2012. The company will replace Land Rover, the RFU's vehicle partner since 2002, in a deal valued at "substantially" more than its predecessor paid over four years.
Although newspaper reports have priced the deal at £1m per year, Insider understands that these reports are not only wholly inaccurate, but fail to take into account the deal's significant VIK component, which meets the RFU's need for a fleet of cars for its country-wide rugby development programmes.
The Property
BMW Group UK will invest in various levels of the elite game through an integrated partnership to become the Official Vehicle Partner of England Rugby, title sponsors of England's elite age grade rugby development programme and front of shirt sponsors of the England Under-16, Under-18 and Under-20 squads.
BMW Group UK will also engage rugby supporters and BMW and MINI customers through the RFU's digital channels and at Twickenham Stadium on international match days.
The Deal Makers
"Like with all good partnerships it was truly a team effort on both sides, with numerous people involved,"Sophie Goldschmidt, the RFU's chief commercial officer tells Insider. "One of the benefits of working with the RFU is that all departments are committed to making the partnerships work." Key figures from the RFU side included Goldschmidt herself and RFU CEO Ian Ritchie. From the brand side, the deal involved BMW marketing executives supported by Synergy Sponsorship.
The Clincher
It is known that Land Rover and other car brands were interested in the official vehicle category, but apart from the fee, Goldschmidt says that BMW's winning bid was based on two main factors: "They have a proven track record of mutually successful partnerships as well as their commitment to invest at a variety of levels. We are also confident that they will be an excellent partner in activating opportunities further in a variety of ways including through their dealerships and digital outlets," she said.
What does it mean?
The RFU's change in sponsorship strategy coincides with the appointment of Goldschmidt prior to England's ill-fated 2011 Rugby World Cup campaign and Ian Ritchie to the Chief Executive's role in December 2011. "We had to learn some things and we had to do some things differently," Goldschmidt admits. "There has been an acknowledgement of that. The partners we have spoken to have been appreciative of that."
Goldschmidt explains: "Our strategy has evolved based on feedback from partners and the direction we think makes most sense for the Union. "We want to have a clear hierarchy of partners which will ultimately lead to fewer partners but a better integrated system across the RFU's assets and game itself. This is intended to be positive for all.
"We also emphasised the need for a broader approach and we are looking for partners who want to support the RFU at a variety of levels and make us a priority from a marketing perspective. In addition our vision is to be more innovative across all areas of the game and at Twickenham stadium, to further grow our fan and player base and ultimately our business towards 2015."
There has also been a rethink about the rights that sponsors can access: "We are constantly looking to be more creative with our assets and look to add even more value to our partnerships. We created a new package of assets for BMW, which gives them ownership around age grade teams. Their undoubted commitment to work with us to develop an even better youth player development pathway will help create the next generation of England players."
Board Report by Danny Townsend, Repucom president EMEA and Charlie Dundas, Repucom executive vice-president, UK & Ireland
The deal announced a month ago that BMW were taking over from Land Rover as the RFU's official vehicle partner is a particularly eye-catching one. The World Cup player indiscipline (or at least the extensive media coverage of it) and the seemingly fractious board room encounters that followed might have led some to believe that the RFU would struggle to retain existing sponsors, let alone break new ground with a blue chip brand such as BMW.
However, this is exactly what has happened. Although negotiations such as this take time, it can hardly have hurt the process that the response to the post-World Cup nadir has been swift and decisive. Firstly the team started to perform well and the new players have begun to represent appealing role models. The interim manager brought a welcome sense of responsibility to the whole organisation and was rewarded with the permanent job.
But perhaps most importantly of all, Ian Ritchie was appointed to the chief executive's role. Ritchie's track record at the All England Lawn Tennis Club (AELTC) was impressive and his experience and knowledge of the pressures of delivering commercial returns has helped to turn the negative tide of opinion against the RFU. His influence must have had a positive impact on negotiations.
BMW claim that research has shown that golf and rugby have been identified as those sports most aligned to their target audience. While it is welcome news to hear that research has backed up this decision, it is fairly apparent to most observers that BMW's ideal driver is well matched to the largely ABC1 male audience that dominates rugby union's fanbase.
What is more interesting is the commitment that is being made to the grassroots of the game. Shirt sponsorship of the U-16s, U-18 and U-20's will not deliver the media value returns that will justify a deal that the Guardian reported to be 'significantly larger than Land Rover's previous £4million deal'. However this is an asset that was highlighted in the deal.
Additionally, I understand that BMW will be providing a number of vehicles to player development personnel in order to assist them in executing their jobs of taking rugby to the masses and fuelling the growth and interest in the game. This is encouraging and really shows that BMW have thought about what they want the partnership to deliver ahead of doing the deal. For me the stand out benefits would appear to be:
1) The 'catch 'em early' approach. BMW has always been an aspirational brand. By building a strong brand relationship with the next generation of ABC1 males (the U-16s, U-18s and U-20s) BMW has built in a head start over their competitors.
2) The 'Thank you Mom (copyright P&G)' effect. By being the brand that helps to make it possible for young people to get access to rugby coaches and rugby training, BMW are wrapping their brand in altruism. Rugby is renowned as a sport that preaches values that any parent would want to see in their children. If the government can't provide access to sports in education, then the governing bodies have to step in. BMW's sponsorship and vehicle provision removes a huge cost barrier to the RFU in making this happen, and this is a theme I would expect BMW to market to their existing and potential consumers.
3) The 'major event effect'. Prior to its LOCOG partnership, BMW's major UK sponsorship of recent times has been the BMW PGA Championship at Wentworth. Undoubtedly, this is a great annual event – the jewel in the European Tour's crown – but it isn't a once in a generation event. The Olympics clearly is and the Rugby World Cup has to be considered as such given the IRB's desire to take the tournament to developing nations in the future. BMW are obviously learning about the effect that a major, one-off event is having on their consumers in the UK. Sponsoring the RFU (with emphasis on grassroots) shows that the organisation is aware of its UK sports legacy responsibility coupled with the benefit of another major, one-off event to leverage in the next three years.
4) The 'hospitality opportunity'. Fans and corporates alike look forward to rugby occasions for the whole event almost as much as for the game. Players, ex-players and fans mingle in a way that is rare in other sports. As a tool to help dealers entertain clients and customers, rugby provides a unique but regular environment that no other car brand can now access in an official capacity.
Overall, I feel that this deal, alongside Sky's recent renewal through to 2016 of their partnership with British Cycling shows that the sponsorship industry in the UK will enjoy a bounce on the back of the Olympics. These brands are breaking new ground and it is heartening to see. What would really help now is some open and honest assessment of the effects of these sponsorships through robust and solid evaluation and research. The whole industry wants to know for sure that these sponsorships work and to see evidence that sponsorship is, as we all believe, an unequalled platform for communications.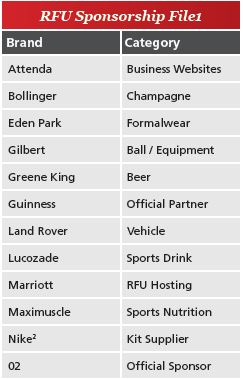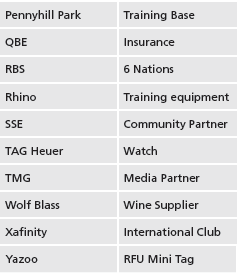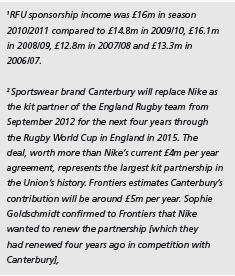 You need to have a subscription to access this content
If you would like more information on our Sponsorship product please contact our sales team