TOP OLYMPIC TEAMS look set for a sponsorship windfall as emerging brands fuel competition for top rights in the apparel category.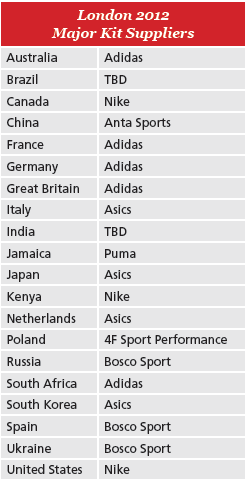 London 2012 will be a major battleground as market leaders Nike, adidas and Puma come under fire from BRIC [Brazil, Russia, India, China] country newcomers.
"It's a highly-charged market and one that is sure to improve the negotiating position of National Olympic Committees going forward," says Tim Crow, CEO of consultancy Synergy Sponsorship.
Chinese brands Anta Sports and Li Ning, Russia's Bosco Sport and Brazil's Olympikus are all anxious to use the Games as a platform.
Anta replaces adidas as the Chinese team's sponsor, Bosco will outfit the Russian, Ukraine and Spanish teams, while Olympikus is set to go head-to- head with adidas for the rights to kit- out the Brazil team in London.
"Brazil has the 2014 World Cup and the 2016 Olympics; and Russia has the 2014 Games and the 2018 World Cup. On the back of that, BRIC-based sponsors are writing unprecedented cheques for Sochi and Rio," says Crow.
"For this reason, it's inevitable that we're seeing the national champions come forward - and there's no doubt that they are a threat to the established players and have genuine international ambitions.
"It's not really surprising that they're looking to the Olympics as a marketing platform: after all, along with the World Cup the Olympics were crucial in accelerating the growth of adidas (especially) and the others."
Pressure on the big three sportswear brands has been building over recent Olympic cycles with Brazilian-owned Olympikus unifying the nationality of supplier and teams at the Winter and Summer Games since 1999 and the Italo-Russian Bosco Sport kitting out Russian medal winners since 2002.
So far, the higher valuations have primarily concerned the BRIC countries themselves. Bosco Sport, for example, paid $18.5m - nearly three times its initial offer - for the Russian rights to Beijing 2008 and Vancouver 2010, to see off domestic rivals Miroff Sport and China's Li Ning. Bosco then held onto pole position for the London-Sochi-Rio series with a bid worth around $100m, which also gives the company General Partner status for the 2014 Olympic and Paralympic Games.
In China, Anta Sports signed with the Chinese Olympic Committee in 2009 for four years covering Vancouver 2010, the Guangzhou Asian Games 2010 and London 2012 in a deal worth between $60m and $70m.
But the Brazil 2012-2016 deal has the power to dwarf these figures. While Nike (football) and Olympikus (volleyball) have two of the biggest Brazilian sports federations wrapped up, adidas have dominated the host country podium and uniform rights since 2000 - and will want to maintain that position with Brazil through 2016.
You need to have a subscription to access this content
If you would like more information on our Sponsorship product please contact our sales team